A bachelor party without a fun theme is like a wedding without a cake. There is simply something missing! Whether you're crazy about superheroes or have a weakness for the 80s, a suitable theme will bring the necessary momentum to your celebrations. It's the perfect way to express the groom or bride's personality while providing plenty of laughs and unforgettable memories.
Here we present you 10 funny and unusual mottos for your Bachelor Party and tell you how to best implement them!
---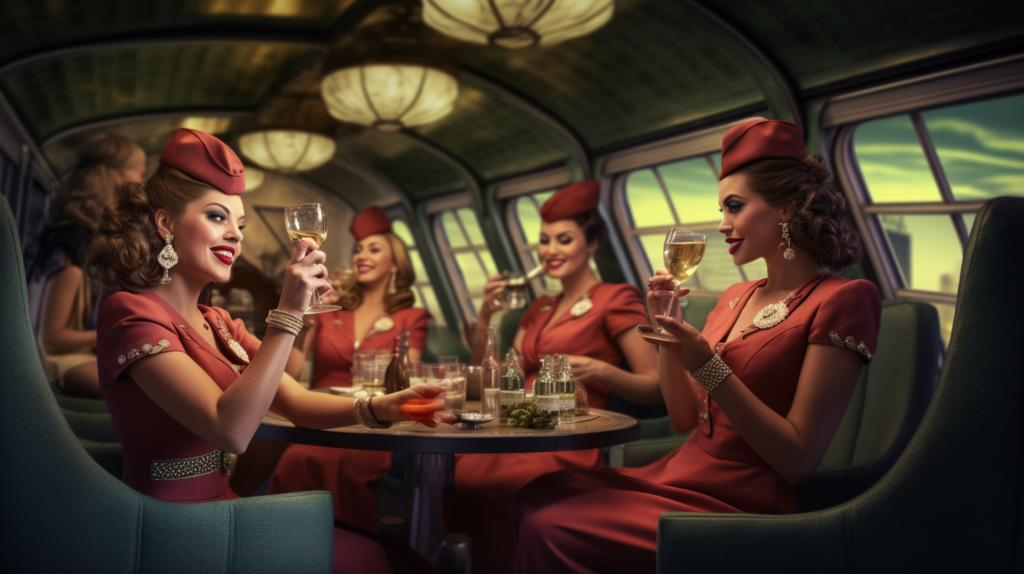 List of funny mottos for your Bachelor Party
So, how do you choose the perfect stag party theme? Ask the main protagonist what he or she likes. What are their hobbies, interests or favorite movies? If the groom is an avid golfer, why not turn the Bachelor Party into a "green and white" event with miniature golf and golf course etiquette. For inspiration, we present 10 ideas:
---
What is the best way to implement the motto?
Choosing a theme for the bachelor party is the first step, but what is the best way to implement it? Here are a few tips on how to turn your theme into an unforgettable party:
Costumes: let your imagination run wild and ask all attendees to dress up to match the theme. Whether superheroes, pirates or fairy tale characters – the right costumes will immediately create an exuberant mood.
Accessories: Complete your outfits with accessories that match the theme. Whether it's hats, glasses, wigs, jewelry, headdresses, veils, garlands or other theme-related accessories, they will add the finishing touch to your look. These little details not only add to the fun, but also provide great photo opportunities.
Decorations: transform the venue into a backdrop that perfectly matches the theme. Whether balloons, banners, table decorations or background pictures – with the right decoration you can create a unique atmosphere.
Saying: A suitable saying or slogan that fits the motto can emphasize the bachelor party in a humorous way. You can have a funny saying printed on T-shirts, use it as a greeting or use it again and again during the festivities. A creative saying brings the mood to the point and ensures many laughs and good humor.
Activities: Plan activities that fit the theme and provide entertainment. For example, if the theme is "beach party," organize beach games, a limbo contest or even a sandcastle contest.
Games and contests: incorporate games and contests into your party that fit the theme. Whether it's a scavenger hunt à la "Detective" or a drinking game à la "Las Vegas," creative games will keep things fun and laughter-filled.
Culinary highlights: The motto must not be missing from the culinary offerings either. Whether it's themed cocktails, matching snacks or even an individually designed theme cake – the food can take the party to the next level.
Music and playlist: Choose appropriate music that fits the theme and creates a good mood. Whether songs from the 80s, anthems from superhero movies or Caribbean music – the right playlist ensures a rousing atmosphere.
Photography: Hire a photographer or set up a photo area with props that match the theme. This creates fun souvenir photos that capture the fun for eternity.
Surprises: Plan surprises or special activities that fit the theme. This can be the appearance of an artist or a special dance show. Such highlights will make the evening even more memorable.
Souvenirs: Don't forget to prepare small souvenirs or goodie bags for the participants. These can be themed and filled with small surprises to keep the fun going after the stag party.
Do not forget relaxation Last but not least, moments of relaxation and enjoyment should also be planned. A bachelor party can sometimes be very active and hectic, so also take time to laugh, talk, relax and enjoy together.
---
Why is it worth having a theme for the bachelor party?
A theme for a bachelor party is primarily used to give the celebration a certain atmosphere and direction . It is a way to make the bachelor party stand out from other celebrations and create a unique experience. If you simply have a pub crawl planned, then you don't need one. But if you have decorations, a photo shoot, special program or something similar planned, then it's worth it!
Fun and entertainment: A theme immediately creates a happy and playful atmosphere. It gives participants the opportunity to dress up, enjoy games and activities that fit the theme, and dive into the role of the motto together. It provides fun and entertainment throughout the bachelor party.
Uniform appearance: a theme allows all participants to dress similarly or wear appropriate accessories. This creates a unified look that makes the bachelor party a memorable event. It creates a kind of team and togetherness feeling.
Commemorative value: a bachelor or bachelorette party is a special event in the life of the bride or groom. A theme helps make this day even more special and memorable. It creates memories that both the main person and all the participants will remember for a long time.
Photo motifs: a themed bachelorette party offers fantastic opportunities for fun and creative photos. The costumes and decorated surroundings provide the perfect backdrop for great keepsake photos. These photos can be shared and enjoyed later as keepsakes.
So, a stag party theme is not only a fun idea, but also a way to customize the celebration and make the day special. It creates a unique atmosphere, promotes fun and creates unforgettable memories for everyone involved.