There are many ways to celebrate your bachelor party. If you don't want to throw yourself into an uninhibited party, are looking for inspiration or are simply a big movie lover, you may prefer a movie night with bachelor party movies
In the following, we have compiled the 10 best movies around the theme of bachelor party or bachelorette party for you and give you some tips on how to organize your movie night.
Summary
Don't feel like partying and clubbing? We have summarized the 10 best bachelor party movies
Ideal as inspiration to get in the mood , incorporate them into your bachelor party or simply for a movie night out
Do you plan to go out later? Then combine a movie with a Drinking game!
Recommendation, for which target audience the film is most suitable and finally tips for the cozy movie night
---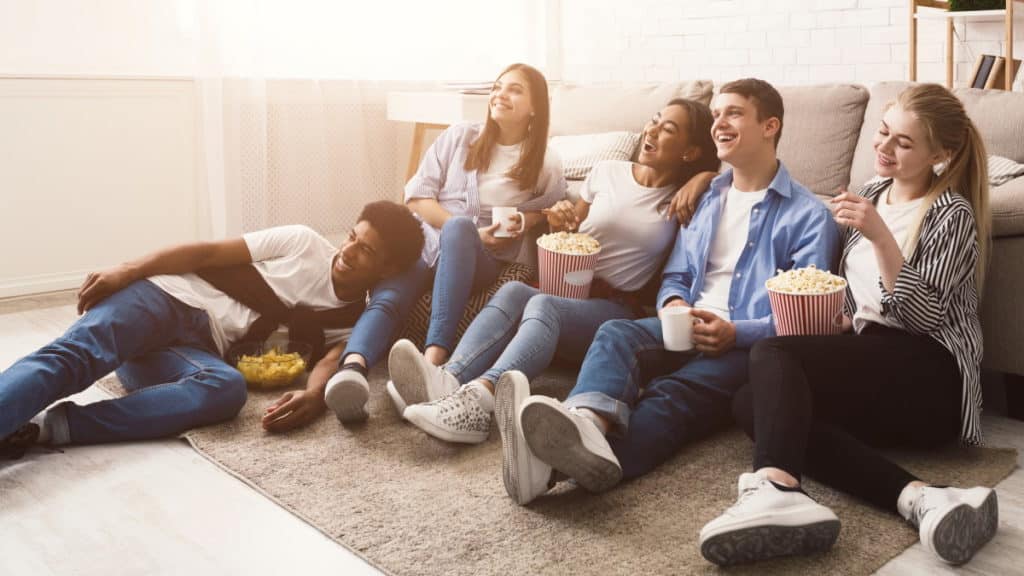 ---
Hangover
"Hangover" is the English word for the hangover after a night of drinking, and that's what friends Phil(Bradley Cooper), Stu(Ed Helms) and Alan(Zach Galifianakis) wake up with in a Las Vegas hotel room after a bachelor party.
All three of them have a movie breakdown, a tiger is squatting in the bathroom, a chicken is also running around somewhere, a baby is in the closet and the groom, Doug(Justin Bartha), has disappeared to top it all off. For the three friends begins a crazy search for just that, in which they have to put together the puzzle pieces of last night.
The film was well received by critics and audiences alike at the time, and was praised for its inventive humor that didn't get too lost in pure silliness. The whole trilogy tends to be aimed at a male audience, if you think humor has a gender.
---
Hangover 2
In the second part of the "Hangover" series, Stu wants to get married in Thailand. Stu has learned his lesson from the debacle in Las Vegas and wants to do without a bachelor party in the classic sense. The mere existence of the second film tells you that nothing will come of it, because after one (!) beer around the campfire, the friends wake up once again with no memory of last night.
Basically, "Hangover 2" strives to repeat the original, so it plays through the evaluated recipe once again. You can like that if that's what you were hoping for. So the film is aimed at those who want to relive the first film with a new setting.
IMDb ratings (Part 1: 7.7/10; Part 2: 6.4/10) and reviews fall accordingly, however. Commercially, Part 2 is the most successful part of the series, with box office takings of $586 million, but this may also be due to the good reputation of the first film.
---
Hangover 3
Alan has unilaterally stopped taking his psychiatric drugs, accidentally decapitated a giraffe and given his father a fatal heart attack with his behavior. At the funeral, his three friends realize that Alan is in desperate need of professional help.
On the way to the therapy center, the men are forced off the road and captured by gangsters, who coerce them into a heist because of events from the previous parts (we don't want to spoil anything).
So instead of rehashing the recipe from the first two films, "Hangover 3" evolves more into a heist comedy, which is why critics often liked the film better than the first sequel, but disappointed some fans because of completely different expectations.
---
Last Vegas
"Last Vegas" brings together some Hollywood urges: Michael Douglas, Robert De Niro, Morgan Freeman and Kevin Kline play friends Billy, Paddy, Archie and Sam, who have been a team since childhood.
Billy (Douglas) wants to get married again (his bride-to-be is 40 years younger than him), so they head to Vegas for a senior bachelor party.
"Last Vegas" is a comedy about getting older and friendship, which scores especially with the self-irony of its main characters. However, the film is not a big gag fireworks, but also tunes more serious, thoughtful and emotional tones and is therefore something for all those who are looking for more in a comedy for their movie night than one punchline after the next.
---
Brautalarm
If you think only men are immature and raunchy, you'll be proven wrong in "Bridesmaids" and "Bride Alarm," respectively, as Kristen Wiig, Rose Byrne, Melissa McCarthy, Wendi McLendon-Covey and Ellie Kemper vie for the favor of the bride (played by Maya Rudolph) as bridesmaids, hardly missing a conceivable disaster – true to Murphy's Law: "If it can go wrong, it will."
But it's also the story of Kristen Wiig's protagonist Annie, who is slowly but surely driven to despair by her environment.
in 2011, "Bride Alarm" was the surprise hit at the box office with takings of $288 million and was also praised by critics, who often stressed that the film was not just a comedy for female audiences.
---
JGA: Jasmin. Gina. Anna.
The singles Jasmin(Luise Heyer), Gina(Taneshia Abt) and Anna(Teres Rizos) want to host the bachelorette party on Ibiza for their friend Helena(Julia Hartmann), but the bride is pregnant and cancels. That doesn't stop the three women from the planned bash.
But then they meet Jasmin's ex-boyfriend Tim(Dimitrij Schaad), who in turn wants to celebrate a bachelor party in Ibiza with his friends Simon(Trystan Pütter) and Stefan(Axel Stein). The problem: Jasmin is not over Tim.
In the film, the characters lurch from one embarrassment to the next, so that it is like a miracle that the viewer also feels empathy between all the foreign shame. But as the gender of the protagonists suggests, this film from Germany is aimed at a rather female audience.
---
American Pie – It's time to get married
Some movie franchises grow with their target audience, and so the third installment of the "American Pie" series, which began as a teen comedy about first times and continued with a story about finding true love, is only logical: the title already gives it away, this time it's about a wedding.
Jim(Jason Biggs) has proposed to his Michelle(Alyson Hannigan) and has done the math without his vulgar and professional teenage high school friend Stifler(Seann William Scott), who repeatedly gets him into embarrassing situations with his antics before the wedding in front of his future in-laws.
When "American Pie" and bachelor parties collide, you can guess what's coming: raunchy humor spiced with a pinch of foreign shame. It's no wonder that the film was not well received by critics. But the film certainly has its audience in all those who are not too fine to laugh at jokes – regardless of gender.
---
The Wedding
Let's tell it like it is: When you watch a film by and with Til Schweiger, you know what to expect – whether you like it or not is another matter. "The Wedding" is the sequel to "Class Reunion 1.0 – The Incredible Journey of the Silverbacks" and, like the latter, a remake of a Danish film.
Thomas (Schweiger) wants to marry his girlfriend Linda(Stefanie Stappenbeck), but at his bachelor party his friend Torben (Thomas Heinze) dies. Together with his friends Nils(Samuel Finzi) and Andreas(Milan Peschel) and Linda's daughter Lilli(Lilli Schweiger), Thomas now has to attend the funeral. When that is delayed, it becomes questionable whether everyone will make it to the wedding on time.
As I said, it's a typical Schweiger comedy and its target audience is all those who otherwise enjoy his films. The critics at least noted that the film was better than its predecessor.
---
The Best Men
David (Xavier Samuel), a Briton, has met Mia (Laura Brent) on a trip and wants to marry her. The wedding ceremony is to take place on the estate of Mia's parents in Australia. As an orphan, David has no family of his own, so only his three best friends and witnesses Tom (Kris Marshall), Graham (Kevin Bishop) and Luke (Tim Draxl) accompany him down under.
But if you're expecting a romantic comedy with subtle British humor, you're barking up the wrong tree: the groomsmen turn the wedding party into a madhouse where a ram is abused, coked on and bathed in self-pity. But if you like brute anarcho humor, you'll get your (more improbably their) money's worth here.
---
You only live once – Zindagi Na Milegi Dobara
Bollywood meets Spain, bachelor party meets extreme sports – that's essentially the formula of the Indian comedy "You Only Live Once – Zindagi Na Milegi Dobara".
Kabir(Abhay Deol), after proposing to Natasha(Kalki Koechlin), organizes a bachelor party in Spain for himself and his best friends Imran(Farhan Akhtar) and Arjun(Hrithik Roshan), where each is to choose an adventurous sport that the three will try. The three have been planning this trip for some time in the form of a closed pact. The trip develops into a twist-filled trip of self-discovery.
In India, the film was showered with awards, and even if one would tend to classify it more as a women's film, men with a romantic streak will also get their money's worth here.
---
Five tips for a more comfortable movie night
---
Step 1: The movie
Yes, you should have clarified in advance where you can stream the film or whether you have to get it on DVD or Blu-ray because none of the streaming services you subscribe to offers the film. The equipment also plays a role here, because you need an Internet connection for streaming and the appropriate player for the physical media. A large screen with a good sound system is not to be sneezed at either.
---
Step 2: Seating
Everyone should be able to sit or lie down comfortably. So if the sofa isn't big enough for everyone, it's not enough to bring in the chairs from the dining table or put cushions on the floor, because no one wants to sit in front of the TV like that for two hours or more. What's more likely to work is a guest mattress, because what's soft enough to sleep on is soft enough to sit on. Maybe one of your buddies has a beanbag chair – that would be easy to transport and is comfortable.
---
Step 3: Food
Provide snacks and drinks, making sure there's something for everyone. Not everything is to everyone's taste and not everyone can tolerate everything. That means don't put out five varieties of chips, but also salt sticks, cookies, chocolate in bite-size form – something like Celebrations, Schogetten or SchokoBons -, licorice. The same goes for drinks, but you certainly know your best friends well enough to know what they like.
---
Step 4: Cinema atmosphere
Since you're probably meeting in the evening, this shouldn't be too hard: Darken the room or turn off the lights. You should already have taken care of the right technical requirements. One thing remains: try to avoid sources of interference: Turn off cell phones, unplug landlines if necessary – of course, only if none of you is expecting a really existentially important call.
---
Step 5: Breaks
It's a good idea to take a break after about an hour of watching any film that breaks the 90-minute mark. It's a good way to get some air in your head, and it's also a good idea to take a bathroom break every now and then, so that no one feels guilty because everyone has to wait for him or her.
---
Hopefully there was something suitable for you, have fun watching the 10 best bachelor party movies!