Bachelor party accessories are a must for an unforgettable party. But do they deliver what they promise? Which accessories can you do without and which are a must-have? We don't leave you alone with the choice.
With the following list you are guaranteed to find the right accessories for the bachelor party.
---
---
Typical dressing up accessories
Typical dress-up accessories for the bachelor party are used to emphasize a certain theme or role. For example, they can be hat, sunglasses, wig, necklace or bowtie. These accessories help to round out the outfit of the bachelor and his friends and make the festivities even more exciting. Here's a selection of popular bachelor party accessories for men and women!
---
Bachelor Party T-Shirt
The T-shirts for the bachelor party you can customize to your theme . You can buy them in different colors and with different prints. On request, the T-shirts can also be printed with an alternative inscription.
T-shirts for the bachelor party serve to mark you as a group. They are a lasting memory and are also gladly brought out again for anniversary weddings. Per T-shirt you should expect prices from 20 euros.
---
Bachelor Party costumes
Costumes for the bachelor party make every party a hit. You have the agony of choice here. Either only the bride or the groom dresses up or you all join in. Of course, the bachelor party can also be themed . Bachelor party costumes you can buy online in all variations. There is also a huge selection of matching accessories.
---
Hawker's tray
The hawker's tray for the bachelor party is the right accessory if you value tradition . An unfilled hawker's tray costs around 20 euros. Your ideas are needed for the filling. A must in the hawker's tray are liquor bottles and sweets, such as love bead necklaces or chewing gum. Joke articles and condoms are also obligatory.
If you don't have any ideas at all, you can also buy fully filled belly stores. You can buy them from 50 euros, with the right assortment for women or men.
---
Bags
Bags are available for both sexes. However, the selection for women is much larger and they are also used much more often by women. The bags for the bachelor party serve primarily as a substitute for the handbag.
They can be color coordinated with the other bachelor party accessories. The imprint can also be freely chosen. They are usually typical sports bags that can be worn like a backpack. Simple bags for the bachelor party cost from 3 euros per piece and personalized bags are available from 5 to 10 euros per bag.
---
Sashes
The sash is indispensable for the bride. It is a lasting memory and is often even framed and kept. Some brides wear them again for later wedding anniversaries or use them then as decoration.
You should make an effort when choosing them. You can buy pre-made sashes or make the bachelor party sash yourself. Paper sashes are cheap, but short-lived. The best sashes for the bachelor party are made of polyester with sewn and reinforced edges. You can get them online from 15 euros per sash.
---
Veil
For the bride, the veil for the bachelor party is the most important accessory. The bachelor party veil should be chosen with care and must meet the taste of the bride. The veil is either attached with clasps or has an incorporated ring. Exclusive veils for the bachelor party have an additional crown or tiara. Simple veils you get from 10 euros.
---
Hair ornaments
The hair ornament is an alternative to the veil or can also be worn in combination with the bachelor party veil. Of course, it also depends on the hairstyle of the bride.
With short hair, the hair ornament is superfluous. Long hair can be suitably pinned with hair accessories, so that the veil for the bachelor party also fits perfectly. Prices for bachelor party hair ornaments start at 2 euros per barrette.
---
Flower wreath
The bachelor party flower wreath is also an alternative to the bachelor party veil. It is supposed to highlight virginity and keep evil spirits away from the bride. Flower wreaths with artificial flowers are available online from 5 euros. More tasteful are bachelor party flower wreaths with fresh flowers. You can buy them in the nursery, around the corner from 10 to 15 euros. In any case, get advice on the choice of flowers, because not all flowers are allowed for the occasion, as they are symbolic.
---
Masks
The masks for the bachelor party have taken on a whole new meaning due to the pandemic . There are masks that are solely for protection and masks that are fun accessories. Of course, it depends on the rules.
If masks are still compulsory in general, then uniform protective masks in one color or with an imprint are a good choice. Personalized FFP2 masks are available from 5 Euros per piece. You don't really need the fun masks. They are really just for your own decoration or a laugh for a few seconds.
---
Hawaii Chains
Hawaii necklaces are becoming more and more popular and are also indispensable for bachelor parties. They are used by women and men with pleasure as decoration or as costume jewelry .
The chains can be color-coordinated and are also available in the bulk pack with ten chains. Prices start from 2 euros per chain. Alternatively, you can have the chain personalized with a pendant or a gingerbread heart. Then they cost at least 4 euros per chain.
---
Fun accessories for the Bachelor Party
Fun accessories for the bachelor party are a quick and easy way to make the festivities even more exciting. They add a lot of fun, make the pictures funnier and provide extra laughs. These accessories will ensure that the bachelor party memories will last for a long time.
---
Tattoos
Adhesive tattoos are usually purchased by the team bride. Men do without this type of bachelor party accessories. They are available pre-made with the inscriptions "team bride", "bride to be" or "bride crew". Sets of four adhesive tattoos are available from 2.50 euros.
You can also have the tattoos personalized. Also the production with a photo of your choice is possible. Such tattoos cost at least 8 euros per piece. The delivery time is between 2 and four weeks depending on the manufacturer.
---
Ties
Ties are a typical accessory for men. They show that the group or team groom belong together. The groom can also wear a separate bachelor party tie with a different inscription. Ties to customize cost at least 10 euros each. For personalized ties you have to pay around 15 euros per tie. Simple party ties are available in bulk packs of 10, starting at 20 euros.
---
Sunglasses and party glasses
Also with the eyeglasses the selection is almost inexhaustible. There are special party glasses or coordinated bachelor party glasses. Every color, every shape and every size is available. Prices for the glasses start from 2 euros. Bachelor party glasses are an ideal fun and are great for unforgettable photos. They are available for men and women and unisex.
---
Iron-on pictures
Iron-on pictures for the bachelor party can be used for different purposes. They are excellent for printing on various bachelor party accessories. The bachelor party iron-on pictures are available with matching bachelor party motifs online from 2 euros per image.
Personalized iron-on pictures are available for purchase from 4 euros. A cheap alternative is ironing paper. You can print this with a conventional print and then print accordingly. The paper is available from 15 euros.
---
ID cards
ID cards are not absolutely necessary to have a hilarious bachelor party. They are also more of an identification card, often attached to a lanyard. This is to recognize the team bride or groom.
These IDs are helpful if you're partying at a club, for example, and end up writing everything down on a bill. This way, the bartender can see right away who belongs to the bachelor party group. A pre-made badge with a simple lanyard costs between 5 and 8 euros each.
---
Buttons
The use of buttons is always discussed controversially already during the preparation. Some need the bachelor party buttons for fun and cohesion. They other can also well and gladly do without it, because you do not need them to experience a great and unforgettable evening.
The decision is up to you. Simple pins in a pack of ten cost around 10 euros. But they are also available personalized or you can easily make them yourself.
---
Bracelets
Bracelets are another accessory to strengthen the sense of community and togetherness. Simple paper bra celets cost only a few euros and are available for the team bride or groom.
They make a nice stage party accessory if you want to mark yourselves in a special way. Bachelor party wristbands can be color coordinated with all other accessories. They can also be labeled with desired imprint.
---
Clothespins
Stag party clothespins are bought and used only by women , if at all. Men do without these accessories. The usefulness of clothespins can be argued.
They make sense at best if you want to attach bachelor party decorations with them. Garlands or balloons are easier to hang. They are also suitable as place card replacements . You can buy pre-made bachelor party clothespins or personalized clothespins. Prices range from 5 to 20 euros for a pack of 5 to 10.
---
Tutu
Since a tutu for the bachelor party is usually worn by the team bride. It is meant to identify the group and is a good alternative to a costume. It can be easily combined with a comfortable leggings and a T-shirt.
For fun, it is also often worn by the groom because Team Groom requests it. A tremendous fun that guarantees unforgettable photos. You can buy simple tutus online from 2 euros. They are also available in a set with headdress and gloves, at a price starting from 10 euros.
---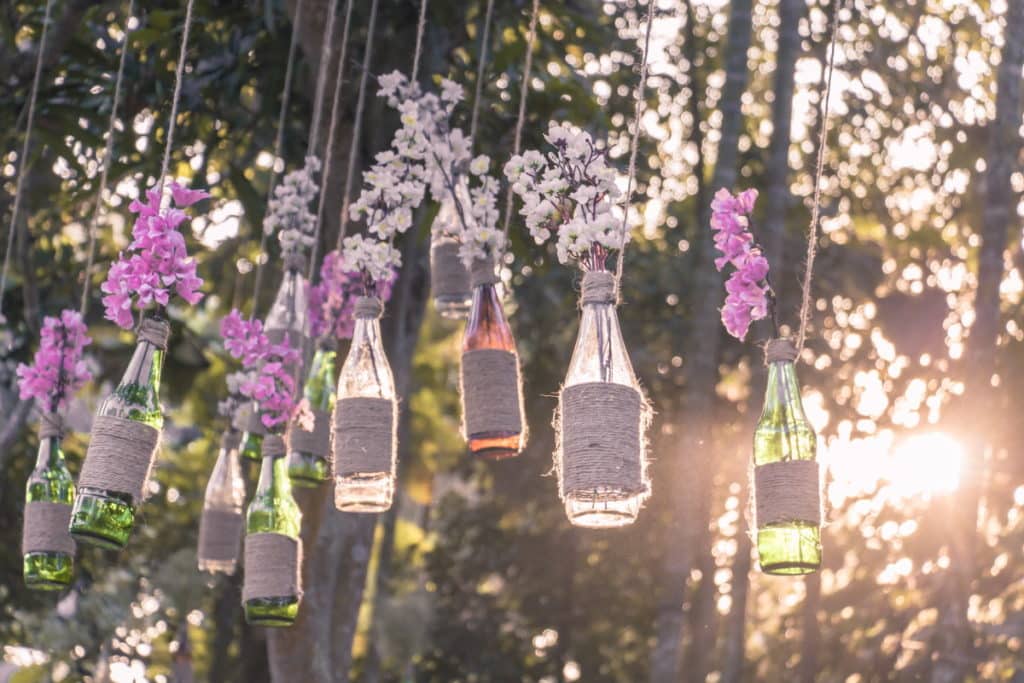 Decoration for the Bachelor Party
A fun decoration for the bachelor party is an important part of making the celebration an unforgettable experience. There are many ways to decorate the room or venue accordingly, depending on whether it is a party, an outdoor event or a trip. The decorations can be themed, such as Las Vegas or beach party style. Or it can simply be color coordinated.
---
Balloons
Balloons are available in all colors and varieties. They are available for the groom and for the bride. Balloons are simply part of a bachelor party. They are an excellent decoration and can also be matched to different mottos .
You can also order personalized balloons in party stores. If you run out of breath, you can also buy a set with a balloon pump. Simple balloons cost around 4 euros in a pack of ten. Motto balloons especially for the bachelor party are available from 10 euros.
---
Glow sticks
Glow sticks for the bachelor party are a must for women. They are available as bracelets or chains . They spice up many a party and are also ideal for dressing up. There are bachelor party bend lights also available for purchase with paper tags. These tags can be personalized. Per bend light you have to calculate a price of one euro.
---
Garter
The blue garter has a long tradition and should be given to the bride at the bachelor party. However, it is only worn on the day of the wedding. The choice of garters is huge. You can buy them in all materials. Here it depends solely on your budget. Polyester garters can be bought online for as little as 5 euros.
---
Medals
Medals are a great thing if you plan drinking games . The winner always gets a bachelor party medal. Some people also keep these medals as a lasting memory. They are available online in packs of ten from 12 euros. You can also have the bachelor party medals personalized. Then you have to count with 4 euros per piece.
---
Cakes
A cake for the stag night makes sense if you celebrate at a fixed location. If, on the other hand, you are planning a parade through the clubs of the city, then you should eat the cake beforehand.
Printed theme cakes are available online and start at 25 euros. Alternatively, you can order the stag party cake from the baker around the corner. If you are creative and have baking skills, you can also bake such a cake yourself. The ingredients cost a maximum of 15 euros per cake. You can order the matching bachelor party decoration online.
---
Paper plates / paper cups
The use of paper plates and paper cups has a great advantage. The disposable tableware is simply thrown away after use. You don 't have to wash the next day.
Of course, the purchase is only worth it if you are celebrating at a fixed location. Paper cups are also great for on the go if you still want to get drunk outside. There are simple cardboard dishes in the set from 10 euros to buy. Special bachelor party disposable tableware is more expensive, but also visually much nicer. It can be coordinated with the stag party decoration.
---
Confetti
The bag of confetti simply belongs to the bachelor party. With it you can revive the bride or groom and the fun factor is guaranteed. But beware: confetti is forbidden on the train or in some clubs. Find a place for it in a park or somewhere on the street. A bag of special stag party confetti can be bought online from 7 euros.
---
Plush handcuffs
The plush handcuffs for the bachelor party are always pink. For some they are absolutely superfluous and for others a tradition. Of course, it also depends on the bride. If the bride is a real party freak, then the bachelor party handcuffs must not be missing in any case. If, on the other hand, the bride is a prude, then you should come up with something else. Plush handcuffs cost around 10 euros with a key.
---
Cupcakes
Cupcakes for the bachelor party are recommended in every respect. If you are celebrating at a fixed location, then they are a good alternative to cakes, as they can also be bought vegan.
They are also great on the go and for those in-between hunger pangs. Cupcakes are popular because you can choose from different flavors and because you can decorate the cakes differently and for any occasion. You can order the bachelor party cupcakes from the baker. Prices vary and depend on your wishes.
---
Snacks
Snacks should not be missing at any party. You should choose the snacks carefully. Sour sn acks and fish snacks are excellent, as they absorb the alcohol. This should also help you get a hangover under control the next day.
Salty snacks and cheese bites are also popular. However, the snacks are only suitable if you stay in one place. Otherwise, you should opt for individually packaged party snacks for the road. You can even carry them in your handbag without any problems.
Letzte Aktualisierung am 2023-02-03 / Affiliate Links / Bilder von der Amazon Product Advertising API