A bachelorette party should not only be an unforgettable experience, but also an opportunity to be creative and dress up. A popular accessory for the bachelorette party is the flower wreath. This playful and romantic headdress is perfect for a day of fun and relaxation. This topic is about the different types of bachelorette party wreaths you can wear on your special day. Whether you opt for a delicate, playful look or an eye-catching, dramatic style, there is a perfect Bachelor Party flower wreath for everyone.
Get inspired by the different options and find the flower wreath that will make your stag party unforgettable!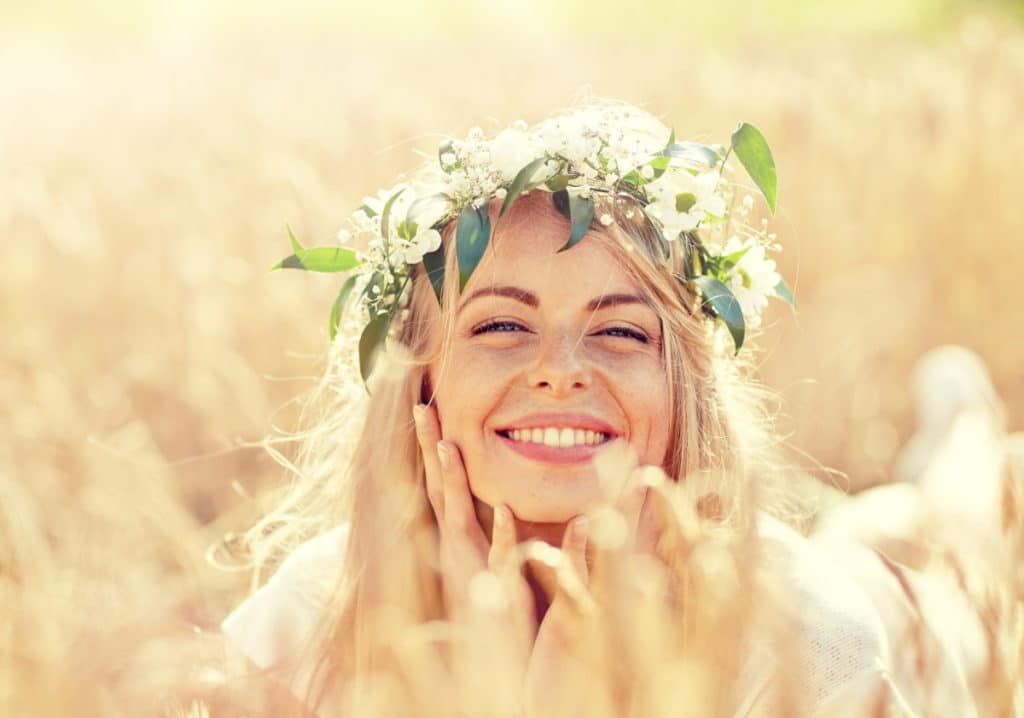 Combine your Bachelor Party flower wreath with other accessories
A stag party flower wreath is a great accessory to make your bachelorette party special. However, to create a coherent overall look, it is important to combine the flower wreath with other accessories. This includes, for example, T-shirts, veils, costumes, pins and much more. Make sure that the colors and theme of the Bachelor Party match and coordinate with each other.
For example, if you have a theme like "boho" or "flower girl", you can choose a delicate and romantic flower wreath that will perfectly match your outfit.
If you have a fancy or fun theme, an eye-catching flower wreath can add that special something to your outfit.
---
Costs, variants and Co.
The Bachelor Party flower wreath is the most important accessory for many brides. He belongs to the oldest traditions of a wedding. Even in the Middle Ages, brides wore flower wreaths as a sign of fertility. Later they symbolized virginity. Today they are a cherished stag party accessory, most often worn as headdresses at bachelor parties by women.
Ready-made Bachelor Party flower wreaths you can buy online in all colors and varieties. These are artificial flowers. The prices for the stag party wreaths start at just under 5 euros. More elaborate variants with hair bands or many different types of flowers and wedding motifs cost from 12 euros.
There are also simple variants made of paper flowers. You can get them in party stores in a pack of ten for just under ten euros. These Bachelor Party flower wreaths are recommended for the guests. The stag party wreath for the bride should be designed but more elaborate.
Bachelor Party wreaths with fresh flowers you have to buy in the florist store around the corner. But most of the time it is necessary to order in advance. Such handmade bachelor party flower wreaths cost at least 15 euros per wreath.
Flower wreaths can also be easily made yourself. Further down you will find instructions. Bachelor Party flower wreaths you can make with dried flowers and fresh flowers. Remember that you may need to pre-order the fresh flowers. Magnolia and chamomile flowers are not in stock at every flower store. Also, you need to keep in mind that fresh flowers wilt quickly. Such stag party flower wreaths you should make at the last minute.
Bachelor Party wreaths made of fresh flowers last only a few hours. Depending on the room temperature, they wither even earlier. Therefore, consider whether the effort with the fresh flowers is worth it. Artificial flowers are more robust and can withstand wild dances. They can even slip off your head and can be put back on without any problems.
Regardless of the type of flower wreath, you should measure the bride's head circumference in advance. Don't let the wreath slip over your head and be worn as a necklace.
Also remember that you may need to fasten the wreath. Simple hair clips are suitable for this.
---
Which flowers are suitable?
In general, you should pay attention to the choice of flowers, because flowers also have a symbolism. Not every flower is suitable for a Bachelor Party wreath. The following flowers are best suited and also fit the wedding and bridal symbolism:
Magnolias
Small roses
Eucalyptus
Baby's breath
Chamomile
Broom
Bearded carnations
---
Instructions: Craft your own stag party flower wreath
Here is a step-by-step tutorial on how to craft a beautiful stag party flower wreath:
Materials needed
Flowers in different colors and sizes (fresh or artificial)
Florist wire
Floral ribbon
Scissors
Pliers
Step by step instructions
Take the wire and shape it into a circle the size you want for your flower wreath. Connect the two ends of the wire together by wrapping them with the pliers.
Cut the stems of the flowers so that they are about 5 cm long.
Take the wire and start wrapping the flowers around the circle. Secure each flower with the wire by wrapping the stem around the wire and wrapping it with the wire. Keep adding flowers until the entire wreath is covered.
When the wreath is covered with enough flowers, wrap the wreath with the floral tape. Starting at one end of the wreath, wrap the ribbon around the wire so that it is covered. Secure the floral tape with glue or another piece of wire.
Cut off the excess floral tape and your homemade stag party flower wreath is ready.
With these simple instructions, you can make your own Bachelor Party flower wreath in no time, which fits perfectly to your bachelorette party. Have fun making it!
---
Buy Bachelor Party flower wreath
A Bachelor Party flower wreath is a beautiful accessory that is perfect for a bachelorette party. The flower wreath symbolizes freshness, beauty and love, which makes it the ideal companion for a special day with the bride. Whether you make it yourself or buy it ready-made, there are many ways to create the wreath. From delicate blooms and pastel colors to eye-catching and vibrant flowers in bold colors, anything is possible.
Letzte Aktualisierung am 2023-02-03 / Affiliate Links / Bilder von der Amazon Product Advertising API