The bachelorette party is a time to celebrate again and spend a special day together. On this occasion, you can do something special, wear great outfits and celebrate again properly! But how do you go about the bachelorette party for women? Who is invited? , where to celebrate and what to do?
Don't worry, we offer you a guide with answers to all the important questions and plenty of inspiration.
Summary
First you need to clarify a few basics: When are you celebrating, who is coming, where are you celebrating?
The "how" is the crux: We help you to find a cool program.
Are you ready? Then fasten your seatbelts, you're ready to go – click through, step by step.
---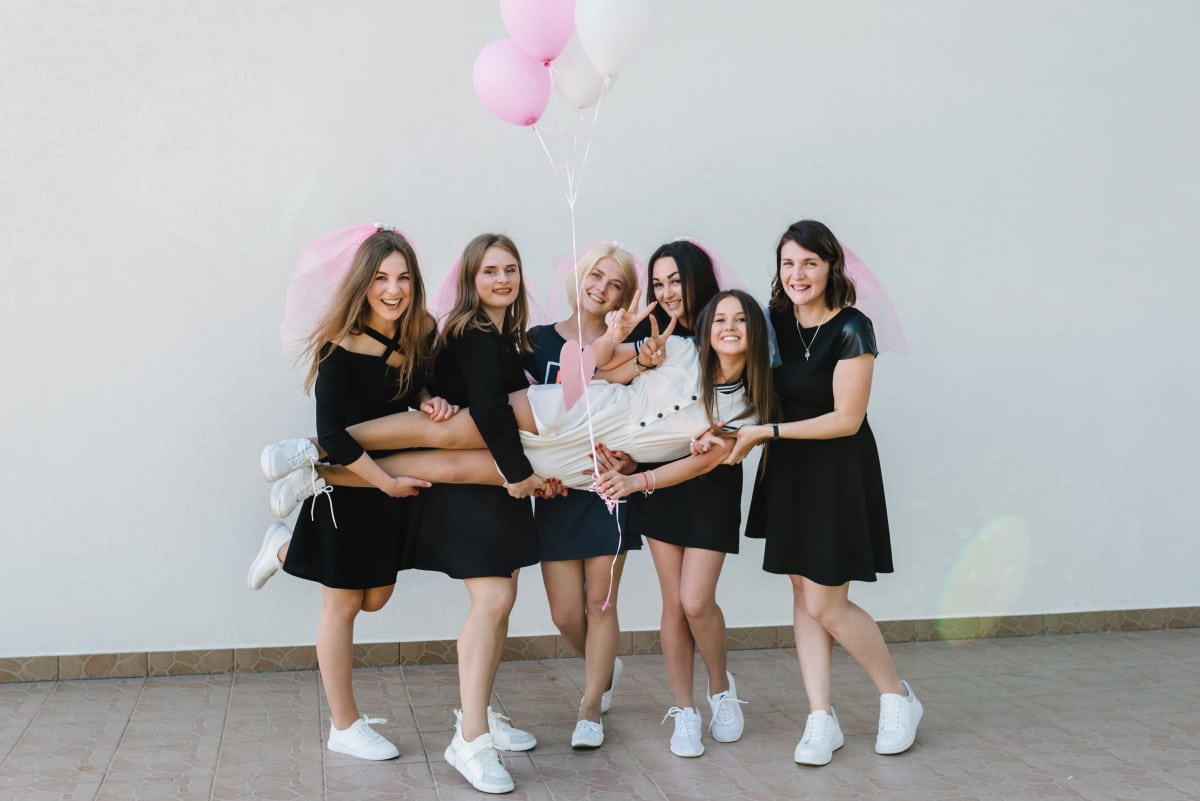 HOW: How to plan the bachelorette party
As maid of honor, it's your job to plan the bachelorette party for your best friend. But how does that actually work? First of all, there are a few urgent questions that you need an answer to – here our FAQ will help you perfectly! 😊
Who comes to the bachelorette party?
When does the Bachelorette Party take place?
Where will the party actually take place?
What would you like to do at the bachelorette party?
After you have clarified the basics, you can start planning more concretely. The next steps can be found below.
---
SEQUENCE: This is what the typical bachelorette party looks like
To give you an idea of how the bachelorette party actually works, we'll briefly present a blueprint.
Daily schedule
Example
Surprise
The best way to start is with a surprise. Talk to her future husband so that he "blocks" a day/weekend with an excuse for you.
Then pick up the bachelorette at home or even better, "ambush" her while she is having breakfast with her fiancé.
Welcome drink
Then a bottle of champagne is opened and a toast is made. Of course, the bachelorette remains in the dark about what is planned and where it goes.
Program
Some people celebrate one day, others plan a whole weekend – depending on budget and time.
In the afternoon you do something nice, more about that below.
Dinner
When the evening comes, you can go out for a delicious meal somewhere or you can cook, barbecue together.
Party
In the evening you celebrate again properly. This can be a party among your best friends, an evening in the club – whatever you like best.
Arrival & Departure
Depending on where you celebrate, the arrival and departure, as well as the overnight stay, must be considered.
---
WHERE: Cities & possibilities for the bachelorette party
There are many ways to celebrate the bachelorette party. Basically, three basic directions come into question, depending on what you have in mind:
---
Option 1: Weekend in exciting city:
The easiest way is to go to the nearest city in your area.
Alternatively, take a big city in Germany (Hamburg, Cologne, Berlin, Munich).
If that's not enough for you, you can of course also choose Mallorca, Prague or another party stronghold!
---
Option 2: You stay among friends
It's about your best friend. So why should you necessarily celebrate with a lot of strangers?
Just rent a cabin or stay in your neighborhood and have a cool house party.
---
Option 3: Excursion into nature
For sporty and nature lovers, a trip into nature, camping, and a party at the lake is also an option.
Here you could spend the night in a tent or a vacation apartment.
---
Option 4: Quiet bachelorette party for pregnant bachelorette
If your girlfriend is pregnant, there is no point in planning an exhausting program. This only degenerates into stress and in the end there are only losers.
Therefore, rather plan a nice quiet bachelorette party
---
OUTFIT: These outfit options you have
When it comes to bachelorette party outfits, men like to overdo it and put on crazy costumes, women have a much better sense of style here! Popular are these outfits for a bachelorette party:
The classic: A bachelorette party T-shirt for women is a nice souvenir. For example, you can all sign, then the bride has something to remind her of the bachelorette party
Professional styling: How about a beauty workshop? There you get make-up tips from a professional and are then perfectly styled for a party afterwards.
Accessories: In addition to the classic T-shirts, accessories are also popular. The choice here is very diverse
Headdress: wreath of flowers or a crown

Sash: sashes with an inscription, e.g. "Team Bride" or "Bride to be".
Other: buttons, beautiful shoulder bags, tulle skirts, balloons, etc.
Without outfit: Even without a special outfit you will have a great time together 😉. It even makes the planning a little easier, but then you may be missing something?
Tip: Please remember that the outfit can be disturbing during some program activities. It could also cause problems when entering the club. So remember to have a spare outfit.
---
WHAT: Great program ideas for afternoon
The program, the real heart of the bachelorette party for women should be something special. Make sure you choose activities that everyone (and especially the bachelorette) will enjoy. And one more thing: It's your day, you don't "HAVE" to do anything at all – even if the media suggests you have to drive around in a stretch limousine and book a stripper.
Here you can find inspiration and our top 10 list of program points:
Festivals in Europe/ Folk Festivals: Is there a festival you've always wanted to visit? Now is the time! Alternatively, see if there's a cool folk festival in the area.
Wellness and Beauty: How long has it been since your last massage? Way too long, treat yourself to a day at the spa with all the trimmings!
City tours: There are great city tours, also thematic (culinary, crime, sightseeing) tours, which really make a difference and are not only suitable for pensioners.
Sporting entertainment: If you want to, then let off steam with rafting, cycling, hiking or in the climbing ropes course.
Culinary: Take a cocktail mixing class or a Spanish cooking class, there are many options.
Shoppping: If the weather doesn't cooperate, why not go shopping?
Professional styling: Have you ever had your make-up done by a professional? Get tips from the expert and pamper the bride-to-be once again.
Culture: In bad weather or even so, museums, street art exhibitions or a visit to the theater are an entertaining amusement.
Bachelorette party games: A classic among the program items, the tasks for the bachelorette party . Whether with or without a belly laugh, they are always an option.
Balloon ride: Do you still want to go out? Then book a balloon ride and see the world from above!
---
PARTY: How to make the bachelorette party legendary!
To make your bachelorette party stand out accordingly, below you'll find options on how to celebrate – the way you like it best, we've prepared three options:
---
Option 1: Party in own location
A nice party at home has advantages, the celebration is only among the best friends, you are not constantly approached by strangers, hit on etc.. In addition, you can prepare everything in peace and together. Also think about the following things:
Good music: Prepare three playlists (one for music from your youth, one for sing-alongs and one for a party).
A small program: To keep the evening entertaining, you should prepare a few small program items: Looking at old pictures, dress-up, karaoke, games….
Snacks: Just order some pizzas, cook something yourself and get some chips and peanuts.
Drinks: Yes, you would have forgotten that ;-). Buy too much rather than too little. And also think about ice cubes, mixed drinks and herbs for drinks.
Stripper: If you like, you can also order a running six-pack to your party. Not a must, but an option. Check with them a few weeks in advance.
PS: If the bachelorette is pregnant, then a house party is a good option. For her, however, you should then plan a few non-alcoholic cocktails.
---
Option 2: The regular bar
Of course, a visit to your favorite bar is also a good choice. Or you can wander a bit through the bars
For such an evening, you should have a plan B. So choose a handful of pubs in case you don't like it in one of them.
In addition, you should briefly inform the owner of the pub in advance, so that he can adjust to it. Also clarify whether disguise is ok.
Maybe you can also convince the owner to give you a little discount – you're coming in a big group and probably have a high consumption.
---
Option 3: VIP Clubbing
Ok, you want the big party, you get the big party! Of course, you will find good clubs in big cities and party strongholds. You should also pay attention to these points:
Reserve a table, then you save the queue and the evening will be more pleasant.
If you want to come in disguise, be sure to ask if it is ok or not.
Also here you should have a plan B, if you do not like the music or there is another problem, then you are prepared.
Also remember that everyone prefers different music. In the end, however, that is not the most important thing, but that you all have a nice evening. Be willing to compromise and just find a middle ground.
---
Final tips
If you've taken our advice above into account, then you're already a big step closer to a hot bachelorette party. And one thing in advance: No matter what you do wrong, it will still be good: The best friends come together and spend a nice day together – what could go wrong?
Finally, we would like to give you a few tips along the way:
Photos: Remember to take photos. You can designate a friend for it or everyone makes some and you share them later (eg in a common WhatsApp group).
Budget: Remember that the program points, a great party, accommodation, travel is not exactly cheap. And then comes the expensive wedding, wedding gifts, etc.. So plan also "cheap" points, e.g. cook yourself or make an excursion in the nature.
Plan B: Have a backup plan ready for essential parts. It may rain, there may be problems at the entrance or similar.
Especially: Go new ways. Business as usual is for other days. So try something new at the bachelorette party.